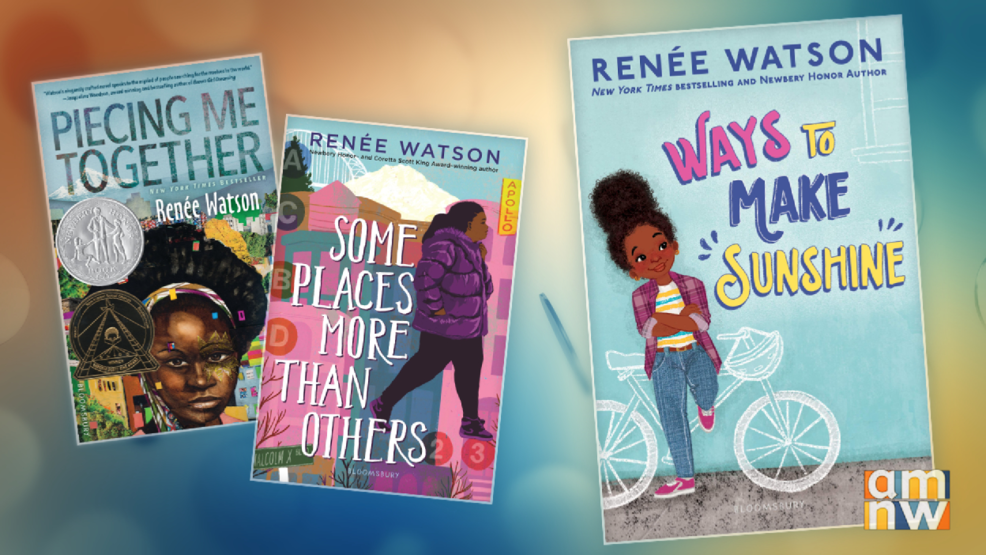 Renee Watson has written many YA books, all celebrating diversity and individuality, family and friends, and loving yourself for who you are. Her books are beautiful and poetic, and I loved reading them. I was super excited to meet Renee Watson in person, and I was not disappointed!
Miss Watson has written award winning books like Piecing Me Together, Some Places More Than Others, Ways to Make Sunshine, This Side of Home, and What Momma Left Me.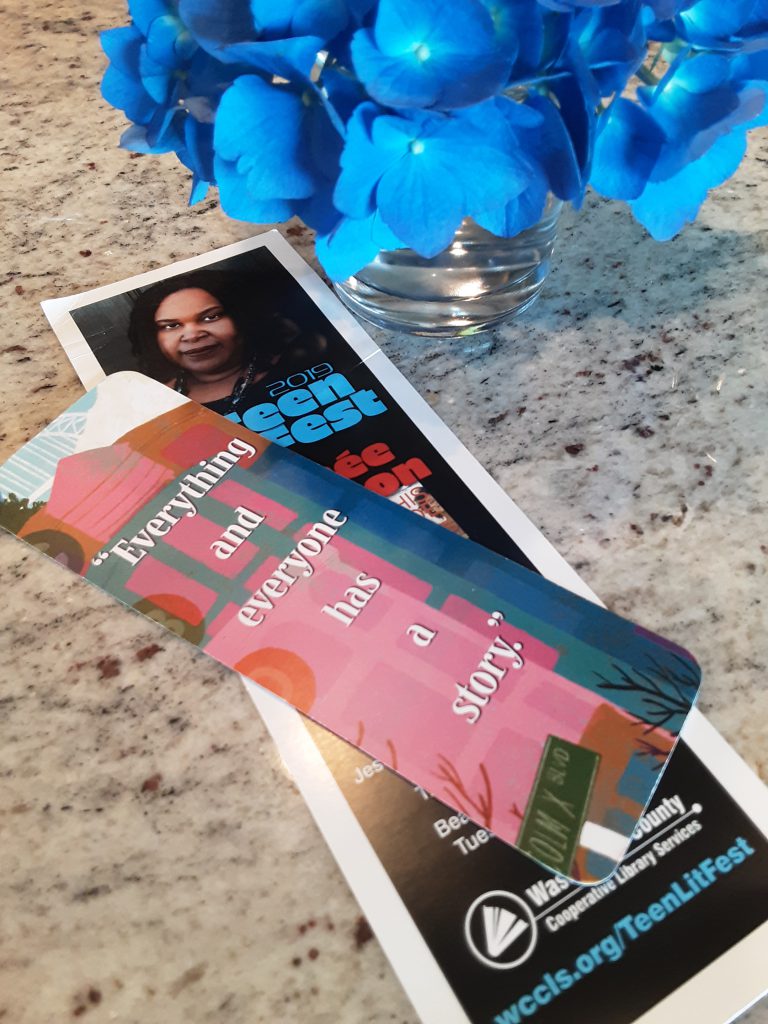 Renee Watson grew up in Portland, Oregon. Now she lives in New York City. She writes poetry and books with characters who are figuring out who they are and "navigating the truth."
The amazing writer started out when she was seven and wrote a 21 page story. Throughout her middle school years she would give people poems instead of presents for birthdays or other celebrations.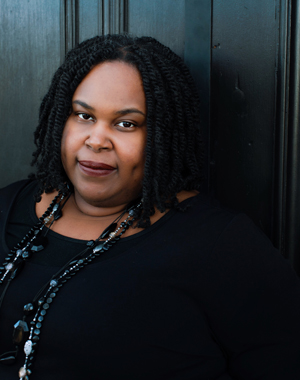 Renee's most recent book, "Ways to Make Sunshine," came out in May. She admitted that she enjoyed writing this book the most, and labels it "Ramona-esque" in reference to Beverly Cleary's beloved character.
Renee spoke about her writing process. She starts by hand writing the story, a very rough draft. Then she gets more detailed and writes it up in pen, revising her story. Next she types it up and prints it out. She uses sticky notes on her wall to write notes for the editor. The covers are managed by the art director.
Her favorite character from any one of her books was Jade, from Piecing Me Together. Jade was inspired by young people she had me before.
Everyone was trying to tell my story, but they were getting it wrong.

Renee Watson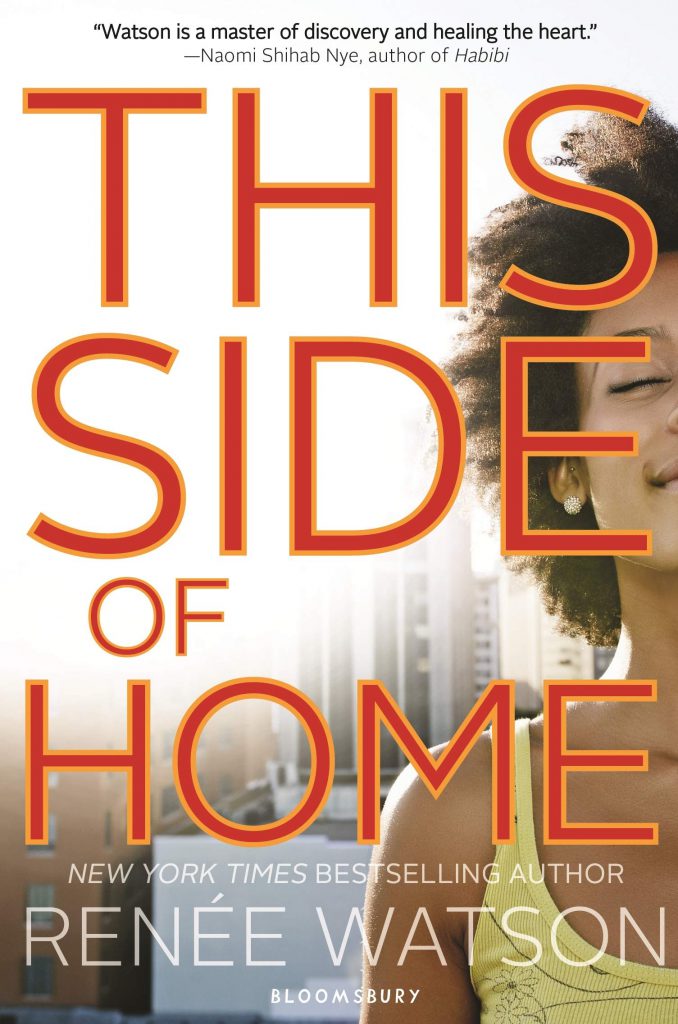 The first time Renee Watson got paid for her work was when she was a senior, but she only decided on her career when she got to college. She started getting her work published when she met a Random House editor. It wasn't just luck, she was ready to start releasing her work into the world. This Side of Home was written in her junior year.
For aspiring writers, poets, and other artists, Renee recommends joining an art class and sharing your work. This can help you to revise anything you need to fix and learn how to get better.
Fun Fact: Renee Watson was the youngest of five children! The siblings used to have lip sync concerts for their mom when they were younger.
Renee's favorite part of a book to write is the dinner scenes, when a family sits around the table and usually has a conversation. These moments can be loaded with emotion, which makes them hard to write but beautiful to read.
Writing is hard.

Renee Watson
The author of many award winning books admitted that writing is definitely hard. it can be stressful even without a deadline to have to share your work if you aren't sure it's good enough. Renee's advice for dealing with this anxiety is to put it on the "back burner." Don't think about it for a while. Then, you can go back and make it better.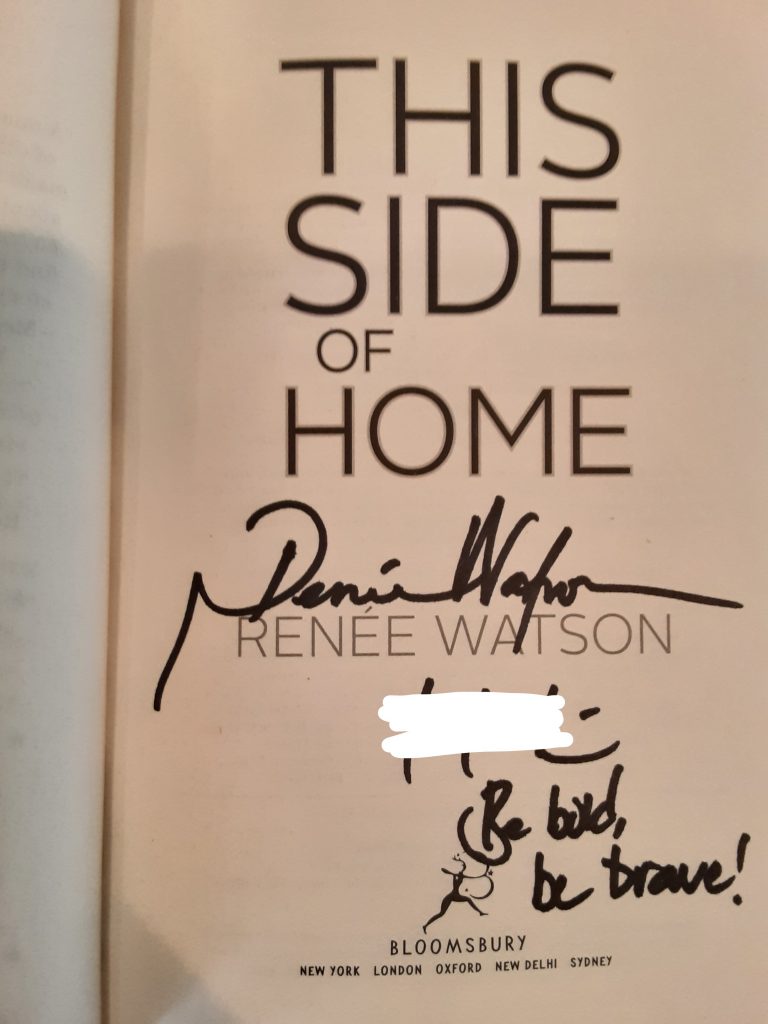 There's fear and anxiety in writing.

Renee Watson

Even if your aren't a writer, Renee thinks that you should remember…
There's so much that you bring into a space with you.

Renee Watson
THE END
I highly recommend that you visit an author talk near you. You can learn a lot about the books you love and the people behind them.