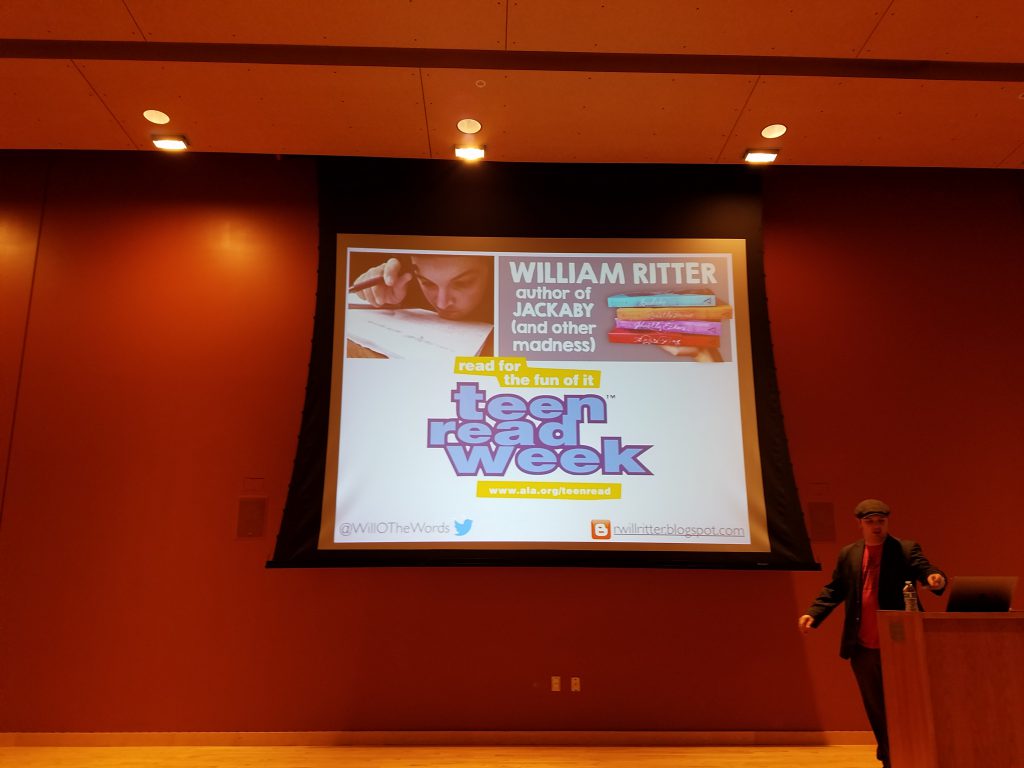 William Ritter has personally requested that I put his info in here so…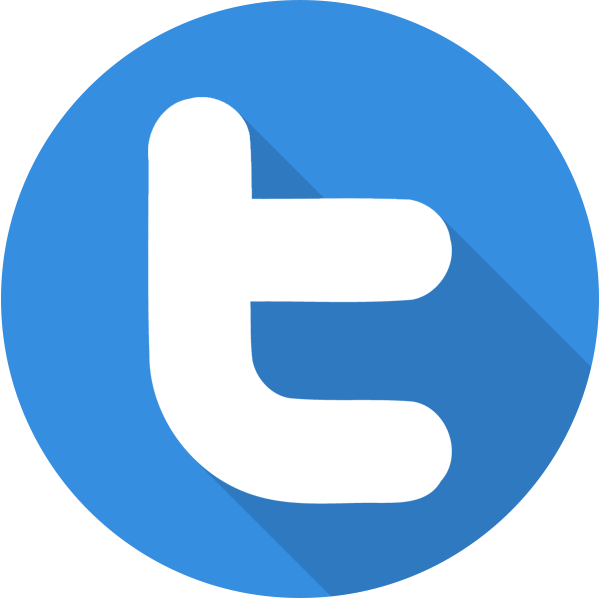 Twitter – @willothewords
(: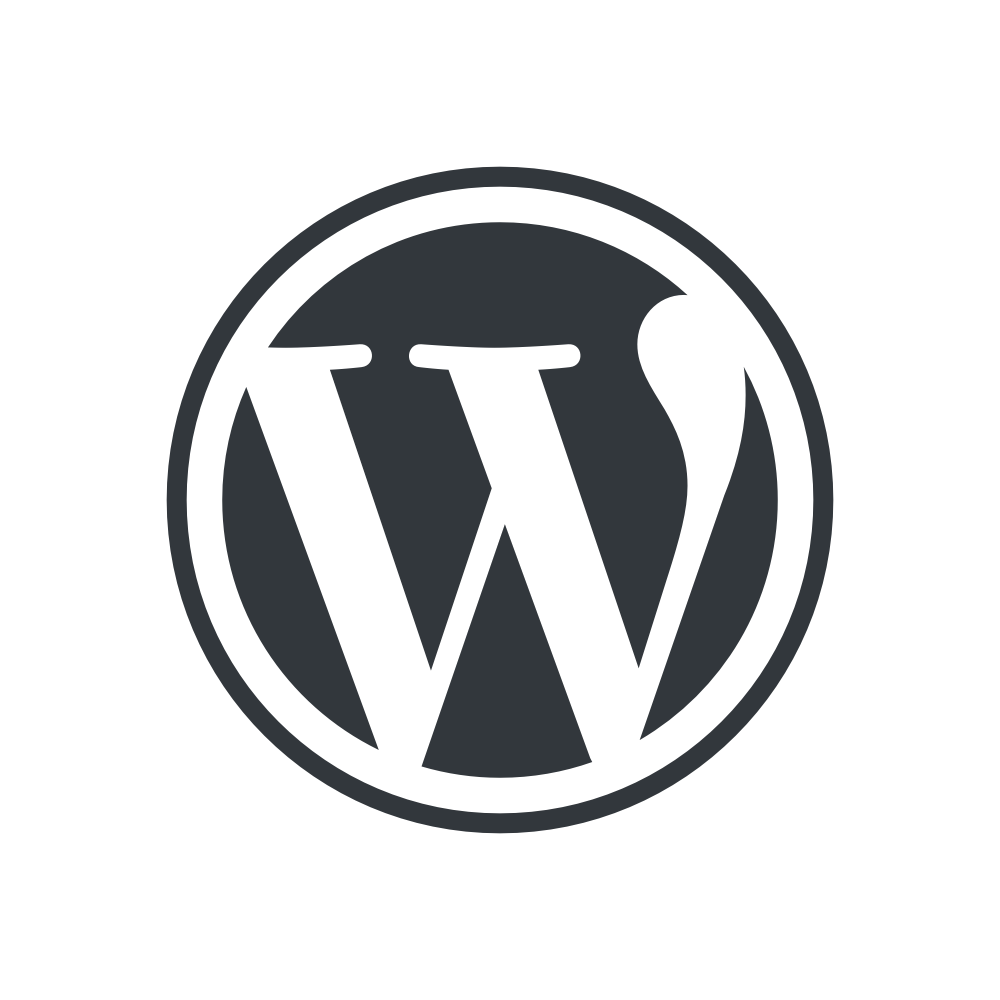 Website – willritter.wordpress.com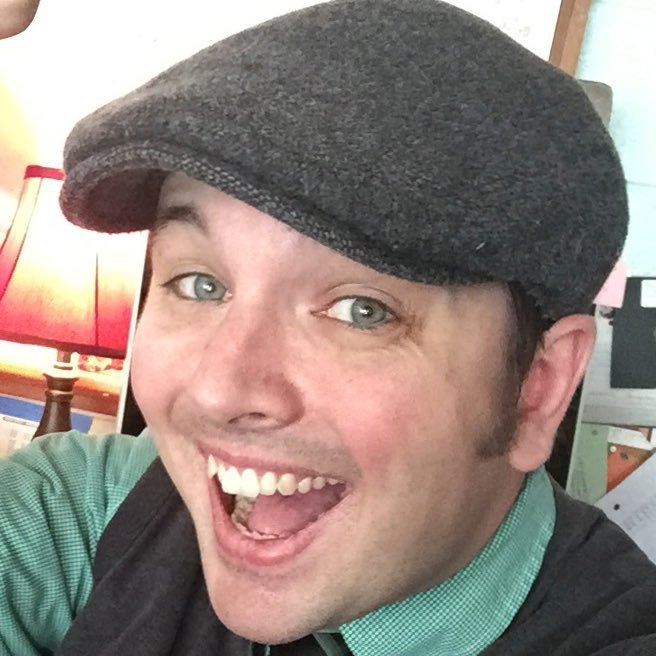 I was really excited to be able to go to the Teen Read Week William Ritter Author Talk. I had never been to a book signing or author talk before, and it was really fun to have this experience.
In my opinion, Will ritter is an amazing author! His Jackaby series is one of my favorite books! It was exciting to hear more about my favorite series from the author.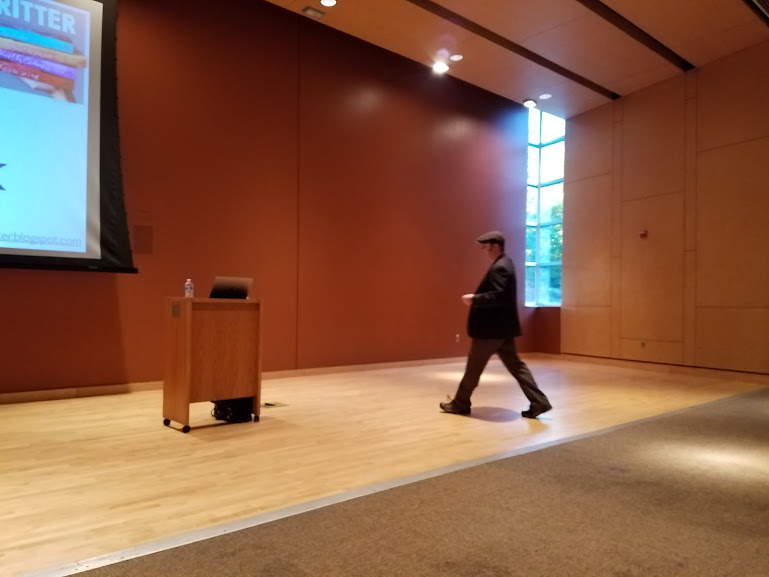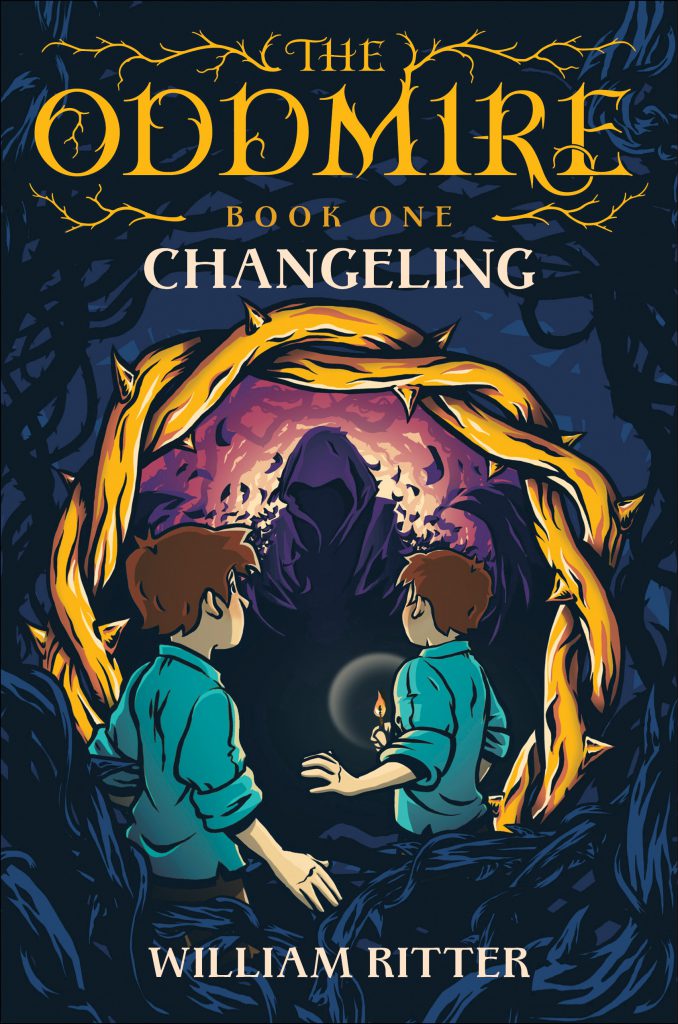 When I got there there were only around 10 people. I expected a bigger turnout, but I liked it being less crowded because it was more intimate. (and it took less time to get my book signed 😉 When he started talking he talked about his new book, The Oddmire, coming out in Summer, 2019. This book does not include anything from Jackaby, but it has some of the same elements from the series. It takes place in 1892, about the time Jackaby took place.
He started by talking about his childhood history of reading and the what the most important book is. Mr. Ritter said that he was at a book convention thingy and someone asked him, "If you could be any character from a book, who would you be?"
He wanted to sound smart, he was a new author and wanted to prove he could write a classic. So he tried to think of an important book, a book that everyone has read or heard, of, something that isn't childish or silly. His answer? The girl from the Book Thief. If you have not read the Boo Thief, it is definitely not a good, or nice, or fun, or silly or uplifting book. It is a good book writing-wise, but it is very sad. Most of the Book thief takes place between 1939-1949, close to Munich Germany, and the Dachau concentration camp. It takes place in Nazi Germany, and as you can tell, most people do not want to live during Nazi Germany.
After the interview, William Ritter realized that he should have said something that he actually wanted to be, like from his FAVORITE book, Thud, by Terry Pratchett. William realized that "The most important book is the one that makes you want to read another one." This led him to believe that the most important book in ALL the world is…
Where's Goldie? By Laurence Di Fiori.
No, this is not a joke. William told us the story of where his mother taught him to read. she would give him the option of doing his chores…OR… she would have him read out loud to her. The first book he ever read was Where's Goldie, and naturally, "Goldie" made him want to read another one!
"The most important book in the world is the one that makes you want to read another one."

William Ritter
Then he started talking about his own writing. He gave us a sound bit of advice, "You are the author that your story needs." You are the one person who knows exactly what your story needs. That is why you should write your story and write it the way you think is the best, not the way you think other people would like it.
"You are the author your story needs."

William Ritter
Next he read us some excerpts from his books. The first one he read to us was a deleted scene from The Dire King. I wont give any spoilers, but they were in the Dangerous Documents section of Jackaby's library, and the scene is labeled, "Anachromicon." I will not put it in here, because of copyright issues and stuff, but I will say that it was really funny and I am sad that his editor cut it out.
The next excerpt he read us was from his new book, the Oddmire. Again, I will not put it in here, but all i will say is that it made me really excited for the Oddmire to come out!
Fun Fact: The same Mint Blue color has been consistent across all of his book covers!
Then he gave some more advice for writers. He talked about how even when he didn't want to write, he had to remind himself that writing to him isn't just a fun hobby. Writing is his job. He has to remember to write every day as if he is getting payed every day. But writers should also remember that they can always go back and fix something. You can push through by writing a quick scene and then during the editing process you can just go back and fix it. Garbage cans are called garbage cans for a reason. You CAN write GARBAGE. They aren't called Garbage Can't.
Write garbage, edit gold.

William Ritter
He also talked a little bit about character development, and how there has to be more than one thing driving them. They have to be more than just extra, 2-Dimensional characters. They are real human beings, it is smart to add inner conflicts and then external conflicts.
Mr. Ritter talked more about writing his own books. Sometimes he would cut out a great chapter, because it didn't really fit in. He says that you have to be ready to take out parts that you think are the best, because mabye after editing you discover that you had made another great chapter.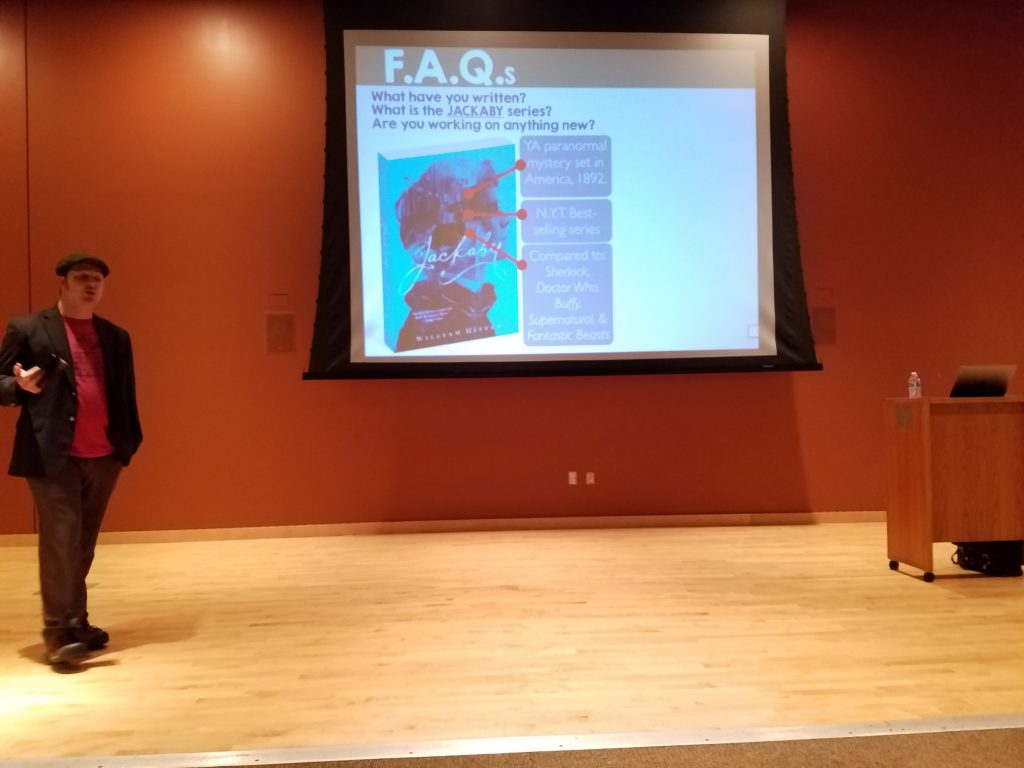 He also told us a little bit about himself, like the fact that his favorite animal is a lemur. Interesting enough, his Patronus is also a lemur.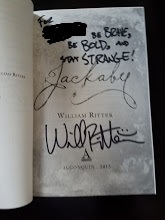 Then I got my book signed!!! It was really exciting and cool to meet one of my favorite authors, and I highly recommend trying to find a book talk or book signing near you!
Make sure to pick up William Ritter's books and read them as fast as you can!
Fun Fact: None of the Jackaby books have ever had a chapter thirteen because of Jackaby' superstitions. The Oddmire is the first of William's books that has a chapter thirteen.
The End
You can also check out The Teen Read Week William Ritter Writer's Workshop here.