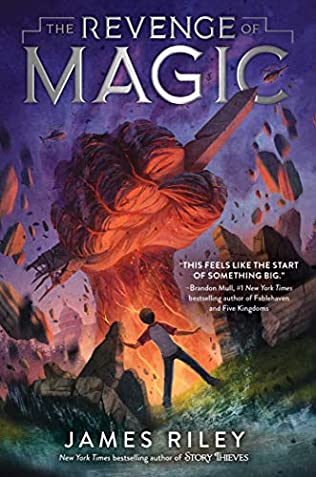 By James Riley
Plot: "Thirteen years ago, books of magic were discovered in various sites around the world alongside the bones of dragons. Only those born after "Discovery Day" have the power to use the magic. Now, on a vacation to Washington, DC, Fort Fitzgerald's father is lost when a giant creature bursts through the earth, attacking the city. Fort is devastated, until an opportunity for justice arrives six months later, when a man named Dr. Opps invites Fort to a government-run school, the Oppenheimer School, to learn magic from those same books. But life's no easier at the school, where secrets abound. What does Jia, Fort's tutor, know about the attacks? Why does Rachel, master of destructive magic, think Fort is out to destroy the school? And why is Fort seeing memories of an expelled girl every time he goes to sleep? If Fort doesn't find out what's hiding within the Oppenheimer School, more attacks will come, and this time, nothing will stop them!"-Publisher
Writing: The book was okay, but it was so different from James Riley's other books that I was a little put off. I mean, usually with an other they have a sort of trademark style, but The Revenge of Magic was so off, and I didn't really like it. The idea is pretty original I guess, only kids born on this certain day can use the magic unearthed on that certain day. The problem is, the enemy in this story just dosen't match up with the type of magic or the type of fantasy. I don't want to spoil it, but they just feel too much like aliens or something. It also felt really convenient that only kids born on Discovery Day could use the magic. I didn't feel like the character development was working out for me either, but that might just be my opinion. Fort wasn't really a likable guy. He was really angry about his dad dying and all that, but he seemed just overly vengeful and probably would've made a better villain than the actual enemy. Even through his unlikabeness, he still manages to make friends, and the friends weren't really well developed either.
Age Level: 10-13. No bad words or anything, a little bit of violence but it's mostly okay.
Overall: If you are looking for a fun read with a few fantasy elements set in the real world, this book would be perfect for you. I wasn't really a fan, but a lot of people have different tastes, and I bet other people would like it.