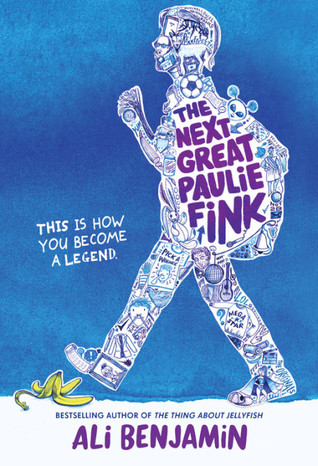 By Ali Benjamin
Plot: "When Caitlyn Breen enters the tiny Mitchell School in rural Mitchell, Vermont, she is a complete outsider: the seventh grade has just ten other kids, and they've known each other since kindergarten. Her classmates are in for a shock of their own: Paulie Fink–the class clown, oddball, troublemaker, and evil genius–is gone this year. As stories of Paulie's hijinks unfold, his legend builds, until they realize there's only one way to fill the Paulie-sized hole in their class. They'll find their next great Paulie Fink through a reality-show style competition, to be judged by the only objective person around: Caitlyn, who never even met Paulie Fink. Who was this kid, anyway–prankster, performance artist, philosopher, or fool? Caitlyn's quest to understand Paulie is about to teach her more about herself than she ever imagined." -Publisher
Writing: This was such a cute story! Paulie Fink's adventures are absolutely hilarious and so fun to read about. The plot was interesting and kept me hooked, although I feel like the whole competition thing was a little weird, because what were they expected to once they became the next great Paulie Fink? The competition was fun to read about, though. I also loved the dynamic between Caitlyn and her new classmates. It was definitely relatable to read about Caitlyn's battle with herself, trying to figure out how to be "nice" or "mean" or what those words are even supposed to mean.
Age Level: 9-13. There isn't any violence or bad words or anything, it's all okay for younger kids.
Overall: This was so fun to read, really entertaining. I highly recommend it!