By Rachel Hartman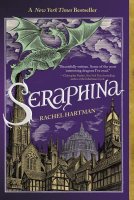 Plot: Seraphina is a normal girl… except for the fact that she is a halfblood, the spawn of a dragon and a human. Her society fears dragons and dragon look down on humans, but neither side feels much sympathy for half-bloods. When a rogue dragon infiltrates the royal court, Seraphina is the only one who can stop them.
Writing: Hartman has written an amazing story that emphasizes how to find your place when it seems that no one wants you. Seraphina is a very lovable character. You'll find yourself rooting for her and the friendships she develops as the series progresses.
Age Level: Kids ages 13-17 would love this story.
Overall: I would recommend this book for fans of Eragon. The dragons in the story can transform into humans. Sometimes it is kind of hard to distinguish the species, but it still has some really three-dimensional characters.