By Delilah S. Dawson and Kevin Hearne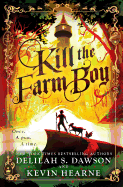 Overview: This series was witty and absolutely hilarious. Every few sentences there was one hidden joke or another. The story was well thought out, and somehow the authors thought up the most insane things to take place in the fictional world of "Pell." I'd recommend this book for people grades 7 and up. Its a great story, but there is definitely some violence and blood and such, a few pretty gruesome things are described in detail in a way that's supposed to be amusing. Some content is definitely meant for older audiences.
What's it about? "Once upon a time, in a faraway kingdom, a hero, the Chosen One, was born . . . and so begins every fairy tale ever told. This is not that fairy tale. There is a Chosen One, but he is unlike any One who has ever been Chosened. And there is a faraway kingdom, but you have never been to a magical world quite like the land of Pell. There, a plucky farm boy will find more than he's bargained for on his quest to awaken the sleeping princess in her cursed tower." -publisher summary
My thoughts: I think the fact that the authors chose to exquisitely describe every single meal the characters eat in an insane amount of detail shows you something about this series. Everything in it is ridiculous, which makes for a lot of laugh out loud moments. The book took a lot of stereotypes and some of the most normal things on "Earth," and then remade them into hilarious parodies in this fairy tale world. It was a really fun adventure with lovable and eccentric characters, and I can guarantee you will love it too.